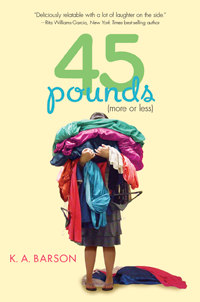 Summary: Here are the numbers of Ann Galardi's life:

She is 16.
And a size 17.
Her perfect mother is a size 6.
Her Aunt Jackie is getting married in 8 weeks, and wants Ann to be her bridesmaid.
So Ann makes up her mind: Time to lose 45 pounds (more or less) in two
months.

Welcome to the world of informercial diet plans, terrifying wedding dance lessons, endless run-ins with the cutest guy Ann's ever seen—and some surprises about her NOT-so-perfect mother.

And there's one more thing. It's all about feeling comfortable in your own skin -- no matter how you add it up!

Being a fat lady myself, I tend to stay away from YA books (or any books really) that deal with weight issues. All too often it ends with the main character losing weight and suddenly becoming beautiful and desirable and wonderful where she wasn't before. While I do obviously support healthy eating habits and exercise for those who can manage it without damaging their bodies, I get tired of seeing the same message in weight books: Lose weight because you're worthless until you do, you big fatty.



See the review at On The Nightstand.