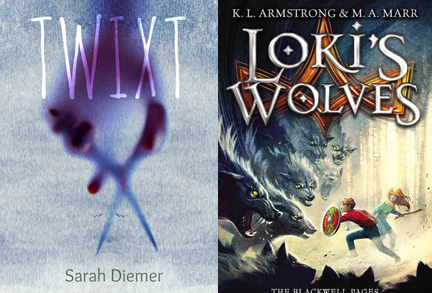 Summary for Twixt:
You wake upon the cold ground. As you struggle to rise, as your breath exhales like a ghost, you know only two things: You can't remember who you are. And you're being hunted.No one sleeps in Abeo City. The lost souls gather indoors at night as Snatchers tear through the sky on black-feathered wings, stalking them. But inside the rotting walls of the Safe Houses comes a quieter, creeping danger. The people of Abeo City have forgotten their pasts, and they can trade locks of their hair to sinister women known only as the Sixers for an addictive drug. Nox will give you back a single memory–for a price.

Like the other lost souls, Lottie wakens in this harsh landscape and runs in terror from the Snatchers. But she soon comes to realize that she is not at all like the people of Abeo City. When she takes Nox, her memories remain a mystery, and the monsters who fill the sky at night refuse to snatch her. Trying to understand who she is, and how she ended up in such a hopeless place, Lottie bands together with other outcasts, including a brave and lovely girl named Charlie. In the darkness, and despite the threat of a monstrous end, love begins to grow. But as Lottie and Charlie plot their escape from Abeo City, Lottie's dark secrets begin to surface, along with the disturbing truth about Twixt: a truth that could cost her everything.
Read the review here at On The Nightstand.
Summary for Loki's Wolves:
In Viking times, Norse myths predicted the end of the world, an event called Ragnarok, that only the gods can stop. When this apocalypse happens, the gods must battle the monsters–wolves the size of the sun, serpents that span the seabeds, all bent on destroying the world.

The gods died a long time ago.

Matt Thorsen knows every Norse myth, saga, and god as if it was family history–because it is family history. Most people in the modern-day town of Blackwell, South Dakota, in fact, are direct descendants of either Thor or Loki, including Matt's classmates Fen and Laurie Brekke.

However, knowing the legends and completely believing them are two different things. When the rune readers reveal that Ragnarok is coming and kids–led by Matt–will stand in for the gods in the final battle, he can hardly believe it. Matt, Laurie, and Fen's lives will never be the same as they race to put together an unstoppable team to prevent the end of the world.
Read the review here at On The Nightstand.
Current Mood:

content

Current Music:

Heaven - Emeli Sande