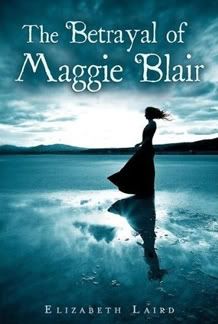 Publication Date:
April 18th, 2011
Release Date:
April 18th, 2011
Publisher:
Houghton Mifflin Books for Children
Genre:
Historical Fiction Young Adult
Pages:
435 Hardcover
Source:
ARC received from NetGalley.com
Trigger Warning(s):
Maggie's grandmother is emotionally and verbally abusive, sometimes physically. There's also quite a bit of torture in the third part of the book.
Summary:
In seventeenth-century Scotland, saying the wrong thing can lead to banishment-or worse. Accused of being a witch, sixteen-year-old Maggie Blair is sentenced to be hanged. She escapes, but instead of finding shelter with her principled, patriotic uncle, she brings disaster to his door.

Betrayed by one of her own accusers, Maggie must try to save her uncle and his family from the king's men, even if she has to risk her own life in the process.

Originally published in the UK, this book has a powerful blend of heart-stopping action and thought-provoking themes.
NOTE: This review is spoiler-free!
Read more at A Bookworm's Shelf.