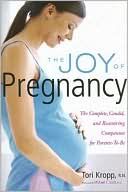 The Joy of Pregnancy: The Complete, Candid, and Reassuring Companion for Parents-to-Be
Tori Kropp
Nonfiction; chick lit; self-help
412 pages



This is going to be THE next classic pregnancy guide! Friendly yet factual, and more practical than medical, this comprehensive guide to pregnancy and birth is intended as the only book parents-to-be will need as they wait for the baby. With a chapter for each month and another for the postpartum period, this book tells expectant parents what they want to know-how the baby and the mother's body are changing, how to prepare for the baby as well as the birth-when they want to know it. The tone is reassuring, nonjudgmental, and often humorous.

This is the most informative pregnancy book I have read thus far. I am not sure if a lot of people are aware of this book, but if you are pregnant or are trying to get pregnant, then I highly suggest this book. (Plus, it is REALLY cheap on amazon.com!)

***Next read: I just started reading Jaws by Peter Benchley in honor of Shark Week!