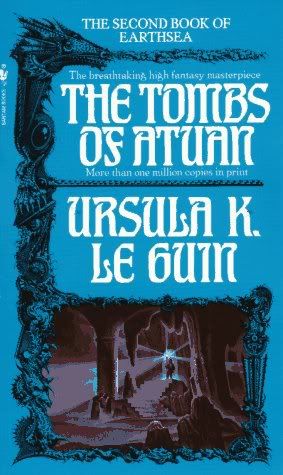 The Tombs of Atuan
(1971)
Written by:
Ursula K. Le Guin
Genre: Epic Fantasy
Pages: 146 (Mass Market Paperback)
Series: Book Two of Six
The premise
: ganked from BN.com:
They took away everything. Home, family possession. They gave her a name. Arha, the Eaten One. They dedicated her life as high priestess to the ancient and nameless Powers of the Earth. And set her down at the Place of the Tombs in the deserts of Atuan. Then, suddenly, a thief came to the dark, endless labyrinth of her kingdom, seeking the greatest treasure of the Tombs, the broken Ring of Erreth-Akbe. A young wizard, Ged . . .
My Rating
Worth the Cash
: but I'm betting that if I ever re-read this book, I'll find I like it more the second time than I did the first. That's what happened with my two readings of
A Wizard of Earthsea
, so I suspect the same will be true with
The Tombs of Atuan
. But knowing I have that to look forward to is wonderful, because there is a lot to enjoy in this book: the female protagonist (probably a rarity at the time of publication) and her coming of age story (even more of a rarity), and while this wasn't written when Le Guin was in her feminist stage, I think you can easily look at this book through feminist eyes and think about what Le Guin might be saying, especially if you compare certain elements of the book to what was happening in feminism at the time of publication. All of it's interesting, but Le Guin also provides a good story with memorable characters and an excellent atmosphere. It's character-focused fantasy with no real quest involved, but it's still engaging. I plan on re-reading this one day, and I look forward to continuing the series.
Review style
: Obviously, I want to talk about the reasons I think this book is such a popular one in the series, as well as examine whether or not it deserves that praise. I also want to discuss the importance of a female protagonist and all of that implies, especially since this was written before Le Guin "discovered" feminism as such. There's a LOT to talk about from the female POV, so bear with me. We'll also discuss whether or not this book is meant to be a stand-alone or read in chronological order, as well as comparing the themes in this book to the themes found in the first. Spoilers are a definite, so if those bother you, skip the full review. Otherwise, click the link below to my LJ! As always, comments and discussion are most welcome! :)
REVIEW: Ursula K. Le Guin's THE TOMBS OF ATUAN
Happy Reading!
DON'T MISS OUT: Want a chance to win a free copy of the short story collection that deserves a Tiptree nod?
Diana Comet and Other Improbable Stories
by Sandra McDonald definitely fits the bill! Interested? Click
here
. Deadline 6/16.
ALSO:
Book club selections @
calico_reaction
. Hop on over! We'd love to have you!
June:
Sunshine
by Robin McKinley
July:
Summon the Keeper
by Tanya Huff
August:
Palimpsest
by Catherynne M. Valente