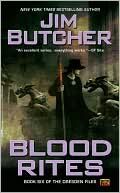 Blood Rites
Jim Butcher
Fiction; fantasy; mystery; series
372 pages



Per usual, wizard-detective extraordinaire Harry Dresden is in trouble. He barely escapes an assassination attempt, courtesy of the Black Council of vampires, when Thomas, a vampire who has helped Harry out on occasion, asks him to take a case. It seems someone doesn't want porno film director Arturo Genosa's latest effort to get off the ground. An entropy spell has killed two of Arturo's assistants, and Thomas wants Harry to find the culprit. With suspects abounding--Arturo has no fewer than three ex-wives--Harry decides to pose as a production assistant at the studio. Though he isn't able to stop another sabotage attempt, this one threatening an actress' life, he does save the young woman. With danger closing in, the last thing Harry needs is a sexy succubus and a surprising revelation about his heritage. Filled with sizzling magic and intrigue as well as important developments for Harry, the latest of his adventures will have fans rapidly turning the pages.

I really enjoyed this book! I took a long break between the fifth book and Blood Rites, but this story got me hooked onto the series yet again! I really liked the big twist with Thomas and Harry. I hope to read more about the vampires in the future books in this series!

***Next read: I am about to start reading Finger Lickin' Fifteen by Janet Evanovich.