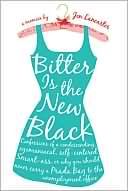 Bitter is the New Black: Confessions of a Condescending, Egomaniacal, Self-Centered Smartass, Or, Why You Should Never Carry a Prada Bag to the Unemployment Office
Jen Lancaster
Nonfiction; memoir
400 pages



Jen Lancaster was living the sweet life-until real life kicked her to the curb.
She had the perfect man, the perfect job-hell, she had the perfect life-and there was no reason to think it wouldn't last. Or maybe there was, but Jen Lancaster was too busy being manicured, pedicured, highlighted, and generally adored to notice.
This is the smart-mouthed, soul-searching story of a woman trying to figure out what happens next when she's gone from six figures to unemployment checks and she stops to reconsider some of the less-than-rosy attitudes and values she thought she'd never have to answer for when times were good.
Filled with caustic wit and unusual insight, it's a rollicking read as speedy and unpredictable as the trajectory of a burst balloon.

The is one of the funniest books I have ever read! Lancaster doesn't hold back (and thank goodness for that)! It is refreshing to read a book in which the author says things she is thinking and feeling without worrying about offending someone. It's not that often that you see an author nowadays admit that she is a card-carrying Republican and I was glad that she included that tidbit of information in her memoir. I really enjoyed reading about her trials while being unemployed, because I too have been unemployed for almost two years. This book has made me think about starting a website and possibly dabble in some writing as well. I recommend this book to everyone, especially women who are having a difficult time right now finding work. I hope that her other books are as witty and amusing as Bitter is the New Black. :)

***Next read: I am still rereading All Together Dead by Charlaine Harris and hope to finish it soon. I am getting my new book club read Cane River by Lalita Tademy. Have any of you all read it???