Title: On the Edge
Author: Richard Hammond
Copyright: Trafalgar Square; 2008
Rating: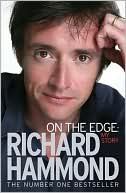 Synopsis from Barnes & Noble: In September 2006, Richard Hammond suffered a serious brain injury following a high-speed car crash. Here is his compelling account of life before and after the accident and an honest description of his recovery, full of drama and incident. An adrenalin junkie long before his association with Top Gear, Richard tells the story of his life, from the small boy showing off with ridiculous stunts on his bicycle to the adolescent with a near-obsessive attraction to speed and the smell of petrol. After a series of jobs in local radio, he graduated to television. His insights into the personalities, the camaraderie, and the stunts for which Top Gear has become famous, make compulsive reading. It was while filming that Richard was involved in a high speed crash, driving a jet-powered dragster. His wife Mindy tells the story of the anxious hours and days of watching and waiting until he finally emerged from his coma. In an extraordinarily powerful piece of writing, she and Richard then piece together the stages of his recovery as his shattered mind slowly reformed. The final chapter recounts his return home and his triumphant reappearance in front of the cameras.

Review: I wasn't sure what to expect when I came across this at the bookstore while hunting for more Top Gear. Of course I looked at it because I'll read the memoirs of anyone who seems interesting. What I didn't expect was that I'd become so drawn into it.

Unlike other memoirs of people who drive fast cars for a living, this one isn't so much about the kinds of cars or a blow by blow accounting of every single trip around the track. This is more a story of how he got to the point of strapping himself into a jet-powered car and his recovery from the subsequent 288 mph crash. At first it sounds preposterous, strapping oneself to a jet engine simply for the hell of it, but I understand where he's coming from. I too was the little kid who came up with sometimes dangerous ways to get attention, and that love of all things mechanical and speedy hasn't left me either.

But what I loved most about this book was the story after the crash. Written by his wife, it's not the clinical, detached recitation of someone who's trying to put up a brave front or just writing what people want to hear. You really feel her frayed emotions at every moment from the initial horror and anxiety of waiting in the hospital through the joy, sadness, and sheer frustration of his recovery. As his memory comes back, he joins her in writing the last few chapters, and their different views of the same events are exceptionally poignant.

I didn't expect a lot when I first picked this up, but what I found is one of the most compelling, honest memoirs I've ever read.