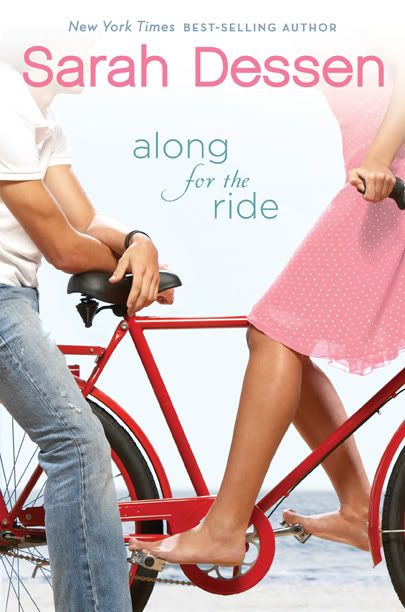 TITLE:
'Along for the Ride'
AUTHOR:
Sarah Dessen
PAGES:
383
SUMMARY:
(
Thanks to GoodReads.com
)When Auden impulsively goes to stay with her father, stepmother, and new baby sister the summer before she starts college, all the trauma of her parents' divorce is revived, even as she is making new friends and having new experiences such as learning to ride a bike and dating.
RATING: A-

I really enjoyed this book! I like her books because they are easy and comforting reads! It's nice when the weather is cold and you have a book with lots of charm to curl up with! I loved Auden! She was smart and yet so naive! How perfect for the beach life setting! (
LOL
)! I liked that she went to this little beach front town and discovered who she was without giving up who she is. I fell in love with Heide right off the bat because she was a woman who had strive and determination, but was also human. She couldn't do the baby thing alone! I hated the Dad with a passion! He was lazy and made excuses and I would have slapped him with that damn book he was writing! I was glad Auden came around to helping Heidi. I was in a similar situation when my sister was born and I was 13, but we share this bond that no one else can understand! I will say that the reason this is an A- instead of an A+ is because of the overly happy ending. I liked that she was roomates with Maggie, but I wish she would have kept her fling over the summer, just that! It seemed to mushy in the last chapter. Overall I liked it a lot!
Tell me what you think!