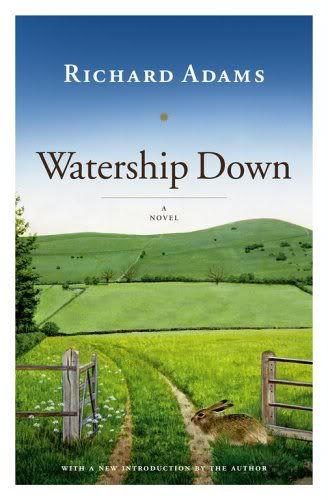 Hazel lives with his smaller brother, Fiver, in the Sandleford Warren with lots of other bucks and does organized around the Chief Rabbit and his Owsla (a group of guard rabbits). Fiver's a bit of a prophetic and has odd, sometimes unintelligible visions. One such vision is of a terrible danger coming to the warren and in his fear and conviction convinces Hazel the Chief Rabbit must be notified. In order for the warren to be safe, an evacuation order must be made. Unfortunately, neither Hazel nor Fiver is believed. However, hope is not lost: one by one rabbits start to appear in support of Fiver and are willing to follow the two in their journey to escape the unknown danger and start their own warren. Along the way they run into rivers, foxes, gulls, mice, cats, a dog, traps, unknown devices made by man, and strange new rabbits.

When I tried explaining what this book was about to my brother, it came out something like this, "It's about a bunch of bunnies and they're trying to find a spot to make a good warren and then they realize, 'hey, we need some does' so they try and find some does and then there's these other vengeful bunnies with lots of extra girl rabbits but they don't want anyone taking them and then…"

That's not too coherent, but in a nutshell Watership Down can be broken into a few parts: fleeing the warren, settling into Watership Down, needing does to fill the Honeycomb, and the journey that takes them to hell and back just to get some, as Kehaar would put it "mudders." It can't just be about that though (well, it can be, but it isn't), and so the adventures of Fiver and Hazel are enormous and test the very strengths and weaknesses of lapine endurance, friendship, and ingenuity. Initially, the group sets out with 10 additional rabbits (even the Chief Rabbit's nephew comes along) and grows, by the end of the book, to 32, plus kittens (baby rabbits). I thought keeping track of twelve rabbits with distinct personalities and dialogue was hard to do. Richard Adams kept throwing more into the mix! To make it even better (or worse, but really he's adorable), there's also Kehaar, a gull with an Austrian accent Hazel and Fiver's warren befriends, and an unnamed mouse companion.

( Read the rest! )

If you want to read just my reviews, I encourage you to follow my book review blog, Jawas Read, Too!