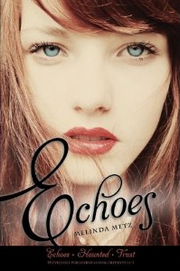 Release Date:
July 27th, 2011
Publisher:
HarperCollins
Genre:
Paranormal Young Adult
Pages:
517 Trade Paperback
Source:
Bought
Trigger Warning(s):
There's a lot of use of the words "insane" and "crazy" and "psycho".
Summary:
Can't believe she did that . . .

. . . at four-thirty I have to . . .

. . . I hate this place . . .

Rae Voight is losing her mind. When she walks down the halls of Sanderson Prep, she hears voices . . . even when no one is talking. Other people's thoughts crowd her head, a confusing tangle of insecurities and dark secrets. Just when Rae reaches her breaking point, one voice comes screaming through the din, loud and clear:

. . . Rae must die . . .

If Rae doesn't figure out who the thought belongs to soon, she could lose more than just her sanity.
NOTE: This review is spoiler-free!
Read more at A Bookworm's Shelf.