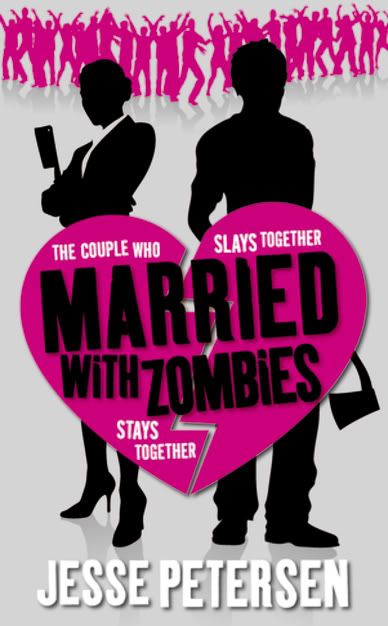 Sarah and David, a rather dysfunctional couple and on the brink of divorce, are on their way to a weekly marriage counseling session. There are a few anomalies: the Seattle roads are deserted, parking is a breeze, and the receptionist is gone. As it turns out, she's in the bathroom of Dr. Kelly's office where Dr. Kelly is herself, kneeling on the carpet—gnawing on her previous appointments. Caught completely unprepared, Sarah and David must now rely on their only available weapons: their knowledge of horror movie techniques and pop culture zombie references to fight their way out of Seattle and see if anyone else has survived. But they have to do it
together
.
Married With Zombies
is the first in Jesse Petersen's
Living With The Dead
series. It's a charmingly facetious guidebook for surviving a zombie attack, but also a quirky self-help manual for marriage and relationships. I am, at best, ambivalent about zombies; gore and I do not get along. However, the "walking dead" are interesting and in this case I hoped would prove entertaining. With a tag line of "The couple that slays together, stays together" I knew this would be about more than just zombies. Honestly, I was also looking for a good laugh.