This is a review for an Advance Reading Copy.
Feed
is currently available for pre-order.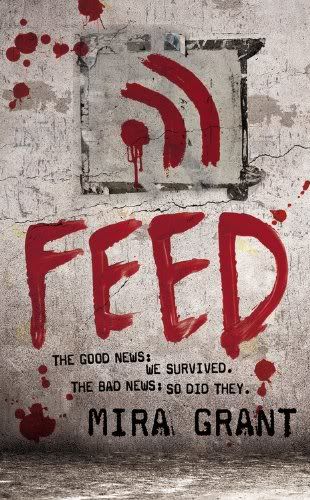 The year is 2039 and bloggers have taken over the world. Twenty five years ago the Kellis-Amberlee virus went live. Infected humans and animals began reanimating after death--some underwent spontaneous change--to become walking feeding machines. With an appetite for the truth as insatiable as a zombie's diet, Georgia--George--Mason and her brother, Shaun, have climbed the ranks of news bloggers around the world. Their ratings have everything to gain from their recent invitation to join a senator's political campaign. Now they're on the road providing coverage of what's promising to be the campaign trail for the next President of the United States of America. There's only one problem: wherever they go, KA begins breaking out, putting the team at risk. Will they survive to see their candidate win the Republican ticket?
Feed
is Seanan McGuire's third published book, but first under the pen name Mira Grant. Fans of her October Daye books will recognize some similarities between the two series. Mainly, these are minor--writers will invariably develop quirks that nuance their writing. Georgia is an independent, no-nonsense workaholic with a license that
requires
her to carry a gun and a disease that makes it impossible for her to cry. Clearly Grant likes writing strong female protagonists. They lean toward the flinty end of the spectrum and stop just short of growling when not amused.
( Read the rest of this review! )