Shakespeare's Landlord (Lily Bard Mysteries, Book 1) Charlene Harris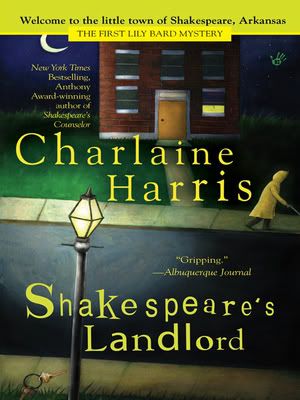 2/5.
Lily is the main character in the book series. In the first book she finds someone placing a dead body near her house when she is out on her nightly, comforting walks. She doesnt want to bring attention to herself so she anonymously makes a call to the cheif of police who lives close by. Throughout this novel she finds herself trying to figure out who the murderer is while cleaning her many clients homes.She chose this job to keep to herself. She cant put her finger on the case but knows it must be solved for her to ever feel comfortable in her small town again. Of course a book like this needs some romance. She finds herself involved with her instructor. Lily has learned how to protect herself because of her unforgetful past. She cant seem to put it behind her. Someone in her small town is letting her know they know about her past as well by trying to spook her. Through out the book Lily is trying to understand her liking of Marshall, find the town killer, and make sure her past remains hidden.

I was impressed with this book after I was about 75% through it. (Not sure about page number due to reading it on the kindle.) I had started it and was a little down about the plot but then it started getting better. I would have probably given the book a 3 if it hadnt taken me so long to get to a part I really enjoyed. Once I did though, I was on edge. I have already read 2 more books of this series and am on my fourth. I will post another review tomorrow on book 2.