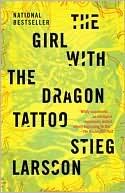 The Girl with the Dragon Tattoo
Stieg Larsson
Fiction; mystery; thriller
590 pages

An international publishing sensation, Stieg Larsson's
Girl with the Dragon Tattoo
combines murder mystery, family saga, love story, and financial intrigue into one satisfyingly complex and entertainingly atmospheric novel.
Harriet Vanger, a scion of one of Sweden's wealthiest families disappeared over forty years ago. All these years later, her aged uncle continues to seek the truth. He hires Mikael Blomkvist, a crusading journalist recently trapped by a libel conviction, to investigate. He is aided by the pieced and tattooed punk prodigy Lisbeth Salander. Together they tap into a vein of unfathomable iniquity and astonishing corruption.
At first, I admit that I didn't think I was going to enjoy this book. It was a little dry with all of the business facts and I wasn't sure where the story was going. However, the second half of this book made up for the dullness that I endured. I really thought Lisbeth Salander was an awesome character, and I hope that she is in the later installments of this book series. I cannot wait to see what happens next!
Books read this year:
39/50.
Pages read this year:
13307/15000