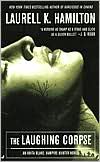 Book #36
Book Title: The Laughing Corpse
Author: Laurell K. Hamilton
Category: fiction; horror; mystery
# of pages: 293
My rating of the book, F- [worst] to A [best].: C+
Short description/summary of the book: (taken from amazon.com):Harold Gaynor offers Anita Blake a million dollars to raise a 300-year-old zombie. Knowing it means a human sacrifice will be necessary, Anita turns him down. But when dead bodies start turning up, she realizes that someone else has raised Harold's zombie--and that the zombie is a killer. Anita pits her power against the zombie and the voodoo priestess who controls it. Notice to Hollywood: forget Buffy the Vampire Slayer; Anita Blake is the real thing.

My Thoughts: I really liked the first book in this series. However Laughing Corpse was just mediocre. The story really was not what I expected. I was hoping that Anita would be dealing more with vampires but she mostly dealt with voodoo and zombies. The storyline really was not that interesting and I do not know if I want to read any more books in this series.

Books read this year: 36/50. I'm 72% done!!!


Next read(s): I am about to start reading The Fellowship of the Ring by J.R.R. Tolkien.