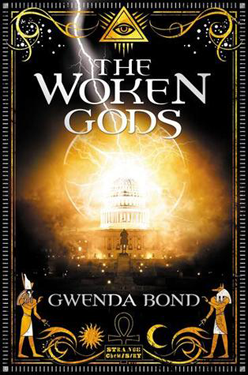 Release date: September 3rd, 2013
Summary: Seventeen-year-old Kyra lives in a transformed Washington, D.C., dominated by the embassies of divine pantheons and watched over by the mysterious Society of the Sun that governs mankind's relations with the gods. But when rebellious Kyra encounters two trickster gods on her way home, one offering a threat and the other a warning, it turns out her life isn't what it seems. She escapes with the aid of Osborne "Oz" Spencer, a young Society field operative, only to discover that her scholar father has disappeared with a dangerous Egyptian relic. The Society needs the item back, and they aren't interested in her protests that she knows nothing about it or her father's secrets.

Now Kyra must depend on her wits and the suspect help of scary Sumerian gods, her estranged oracle mother, and, of course, Oz–whose first allegiance is to the Society. She has no choice if she's going to recover the missing relic and save her father. And if she doesn't? Well, that may just mean the end of the world as she knows it.

I'll admit to being a little hesitant in reading YA books–or any books, really, but especially YA ones–that deal with gods. All too often they aren't written well, to be honest, and no matter how good the rest of the book is I'm always going to be highly irritated at bad writing of gods.



Read the review at On The Nightstand.