Every year, a slate of new books is nominated for some prestigious award or another, and someone is unhappy with the selections, feeling either that a much more deserving book was overlooked, the books that were nominated are undeserving, or both.
If you are a
bookish
-type person and you've been online in the past few days, then you probably know about
Christopher Priest's rant
about this year's Arthur C. Clarke nominees. There are now responses all over the Internet, including from the mighty
Scalz
and
fandom_wank
. Christopher Priest seems mildly bemused by the reaction, both not quite getting and not really perturbed by this Internet thing that has turned his diatribe into the newest set of memes.
Okay, that was fun, but this SBD is not actually about authors uncorking on other authors, or authors getting cranky about awards, much as I love me some wank-worthy author rants. Instead, I ask the question: do awards matter? And which ones?
The answer in the real world, of course, is yes: clearly a Pulitzer Prize or a Hugo means a major sales boost, at the very least, and probably a book that will be remembered and read for longer than it otherwise might have been. For authors who care about that sort of thing (and very few authors who are being honest will claim they don't), it's also got to be pretty awesome to say you won a Pulitzer or a Hugo. The prize money for these awards is usually pretty small, but for a new author, especially one who's relatively unknown, that and the publicity can't hurt either.
But what about you
bookish
folks? Do you follow award nominations, or even seek out books because they won an award? Does
Winner of the Man Booker Prize
on the cover make you more likely to read a book you might otherwise have passed over?
For me, the answer is "sometimes." I have read books that I never would have heard of if not for their winning a prize. And I pay attention to the shortlists in genres I am interested in, and add nominees that sound interesting to my TBR list. But I don't go out to read everything that gets the nod from a judges' panel, and I am not sure how often I would agree with their choices.
Here is a brief rundown on some of the major awards of interest. There are, of course, countless other awards from meaningless ones issued by small presses, local newspapers, and fan organizations to popularity polls like the
Goodreads Choice Awards
, none of which do I consider particularly meaningful.
(Note when I say "Awards of interest," I mean to
me
, being an American who reads mostly genre fiction. There are many other awards out there, some quite prestigious, but these are the ones that usually hit the radar of American readers. Feel free to discuss others you think deserve note in the comments.)
The Nobel Prize in Literature
Awarded since:
1901
Selected by:
The Swedish Academy, which sends invitations to selected individuals to make nominations, from which the Academy selects a winner.
Prize:
As of 2011, ten million Swedish kronor (About $1.5 million.)
Most recent winner:
Tomas Tranströmer (2011)
Probably
the
most prestigious award a writer can receive, and definitely the highest monetary prize. The Nobel Prize in Literature is given to an author, not for a particular book.

On 27 November 1895, Alfred Nobel signed his last will and testament, giving the largest share of his fortune to a series of prizes, the Nobel Prizes. As described in Nobel's will one part was dedicated to "the person who shall have produced in the field of literature the most outstanding work in an ideal direction".
(From
www.nobelprize.org
.)
The Man Booker Prize for Fiction
Awarded since:
1969
Selected by:
A panel of judges selected annually by an advisory committee.
Prize:
£50,000
Most recent winner:
The Sense of an Ending
, by Julian Barnes (2011).
This is specifically a UK commonwealth award, but it's highly regarded throughout the English-speaking world. Although any novel is eligible, it usually goes to "literary" novels, and there have been grumblings in the past when books perceived as "genre" or "popular fiction" won the prize.

Any full-length novel, written by a citizen of the Commonwealth or the Republic of Ireland and published in the United Kingdom for the first time in the year of the prize. The novel must be an original work in English (not a translation) and must not be self-published.
(From
www.themanbookerprize.com
)
The Pulitzer Prize for Fiction
Awarded since:
1918
Selected by:
Anyone can nominate a book (including the author); winners are selected by the Pulitzer Prize Board.
Prize:
$10,000
Most recent winner:
A Visit from the Goon Squad
, by Jennifer Egan (2011)
The Pulitzer Prize for Journalism is probably more famous, but the Pulitzer is actually a series of prizes (over twenty), and in Arts and Letters there are Pulitzers not just for fiction but for various categories of non-fiction as well. I only listed the fiction winner above. For the most part, it's limited to American works and authors, as the Man Booker is limited to Commonwealth citizens.
Books first published in the United States during 2011. All entries must be made available for purchase by the general public in either hardcover or bound paperback book form. In the Fiction, Biography and General Nonfiction categories, authors must be United States citizens. In the History category, the author may be of any nationality but the subject of the book must be U.S. history. In the Poetry category, the award is for original verse by an American author.
(From
www.pulitzer.org
)
The Hugo
Awarded since:
1953
Selected by:
The
World Science Fiction Convention
. Everyone who registers for Worldcon gets nomination and voting rights for that year.
Prize:
A trophy.
Most recent winner:
Blackout/All Clear
, by Connie Willis. (2011)
Probably the most prestigious science fiction and fantasy award, there are a bunch of categories for the Hugo (best novel, best novella, best short story, best artist, etc. I listed only the most recent winner for best novel).
The Nebula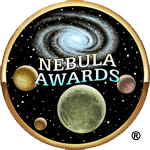 Awarded since:
1965
Selected by:
The Science Fiction and Fantasy Writers of America
Prize:
The acclaim of your peers.
Most recent winner:
Blackout/All Clear
, by Connie Willis. (2010)
A sort of companion to the Hugos, and there have been many
joint winners
. The main difference is that the Hugos are chosen by fans, while the Nebulas are chosen by fellow authors. There are categories for novel, novella, novelette, and short story; again, I only listed the most recent novel winner.
A subcategory of the Nebula is the
Andre Norton Award for Young Adult Science Fiction and Fantasy
. (2010 winner:
I Shall Wear Midnight
, by Terry Pratchett.)
Since 1965, the Nebula Awards have been given each year for the best novel, novella, novelette, and short story eligible for that year's award. The Award for Best Script was added in 2000. An anthology including the winning pieces of short fiction and several runners-up is also published every year. The Nebula Awards® Banquet, which takes place each spring, is attended by many writers and editors and is preceded by meetings and panel discussions.
(From
www.sfwa.org
)
The Locus Awards
Awarded since:
1971
Selected by:
Locus Magazine's
annual readers' poll.
Prize:
A certificate
Most recent winners:
SF NOVEL:
Blackout/All Clear
, Connie Willis; FANTASY NOVEL:
Kraken
, China Mieville; YOUNG ADULT BOOK:
Ship Breaker
, Paolo Bacigalupi; FIRST NOVEL:
The Hundred Thousand Kingdoms
, N. K. Jemisin
A sort of supplement to the Hugos and Nebulas, also with several categories; the Locus Award is not quite as prestigious, but still very well known.
The Locus Awards are presented to winners of Locus Magazine's annual readers' poll, which was established in the early '70s specifically to provide recommendations and suggestions to Hugo Awards voters. Over the decades the Locus Awards have often drawn more voters than the Hugos and Nebulas combined. In recent years Locus Awards are presented at an annual banquet, and unlike any other award, explicitly honor publishers of winning works with certificates.
(From
www.locusmag.com
)
The Arthur C. Clarke Award
Awarded since:
1987
Selected by:
A panel of judges from several British SF associations.
Prize:
Pounds sterling equal to the year (so £2012 in 2012)
Most recent winner:
Zoo City
, by Lauren Beukes
This is the one that Christopher Priest popped off about, and one of the few SF awards that actually comes with a cash prize.
The Arthur C. Clarke Award is the most prestigious award for science fiction in Britain.

The annual award is presented for the best science fiction novel of the year, and selected from a shortlist of novels whose UK first edition was published in the previous calendar year.
(From
www.clarkeaward.com/
)
The Edgar Allan Poe Awards
Awarded since:
1954
Selected by:
The Mystery Writers of America
Prize:
A trophy
Most recent winner:
The Lock Artist
, by Steve Hamilton
Equivalent to the Nebula in the mystery genre; the Edgars are awarded by the MWA at their annual banquet. Like the Nebulas, there are a variety of categories both for fiction and film.
The RITA Awards
Awarded since:
1982
Selected by:
The Romance Writers of America
Prize:
A golden statuette
Most recent winner:
See
2011 winners
(there isn't really a "best romance novel" category)
This is the RWA's prize for the romance genre, and like similar ones (the Nebulas and Edgars), there are awards in several categories.
The purpose of the RITA® contest is to promote excellence in the romance genre by recognizing outstanding published romance novels and novellas.

The award itself is a golden statuette named after RWA's first president, Rita Clay Estrada, and has become the symbol for excellence in published romance fiction.
(From
www.rwa.org
)
The Newbery Medal
Awarded since:
1922
Selected by:
The Association for Library Service to Children
Prize:
A medal
Most recent winner:
Dead End in Norvelt
, by Jack Gantos (2012)
If you grew up in the U.S., you probably saw a lot of books stamped with the Newbery Medal as a child, as these (and the "Newbery Honors" runners-up) were favorites of children's librarians. Unfortunately, as I recall them, they often proved that adult librarians choosing books they thought were best for children didn't necessarily correspond to books kids would find the most fun to read. Not to say there weren't a few of my favorites on the list (like Susan Cooper's
The Grey King
and Madeleine L'Engle's
A Wrinkle in Time
).
The Newbery Medal was named for eighteenth-century British bookseller John Newbery. It is awarded annually by the Association for Library Service to Children, a division of the American Library Association, to the author of the most distinguished contribution to American literature for children.
(From
www.ala.org
.)
The March 2012 bookish Readers' Poll!
Poll #1830445
Awards
Open to:
All
, detailed results viewable to:
All
, participants: 59
Do you care about literary awards?
View Answers
Yes, I make a point of reading books that have been distinguished in some manner.
1 (1.7%)
I might take more notice of an award winner, though I don't necessarily read all of them.
15 (25.4%)
Not really, though an award might persuade me to try a book I wouldn't have been interested in otherwise.
25 (42.4%)
There may be one or two awards I care about, but otherwise, no.
7 (11.9%)
No, who cares what some poll or panel of judges thinks about a book?
11 (18.6%)
Which of these awards, if any, matters to you?
View Answers
Nobel Prize in Literature
23 (17.6%)
Man Booker
17 (13.0%)
Pulitzer
22 (16.8%)
Hugo/Nebula/Locus/Arthur C. Clarke
32 (24.4%)
Edgar
7 (5.3%)
RITA
1 (0.8%)
Newbery Medal
14 (10.7%)
Andre Norton
3 (2.3%)
Goodreads Choice
6 (4.6%)
Other (describe in comments)
6 (4.6%)
Do you think literary panels make good/worthy choices?
View Answers
Yes, judges are pretty knowledgeable about literature
0 (0.0%)
Usually, though sometimes I wonder why they chose a particular book
14 (23.7%)
I sometimes agree with them, sometimes don't; I think it's pretty subjective
32 (54.2%)
No more than I would or a readers' poll
10 (16.9%)
No, they're all a bunch of elitists choosing according to their own arbitrary criteria that have nothing to do with quality
3 (5.1%)
Previous Saturday Book Discussions
.